Thai Thara
Wellness Amsterdam
Ontspan en kom helemaal tot rust bij Thai Thara. In onze wellness Amsterdam verzorgen we onder andere verschillende massages; zo geniet u bijvoorbeeld van een heerlijke warme olie- en kruidenstempelmassage. Ook geven we een traditionele Thaise massage en richten we ons specifiek op uw rug, schouders en/of nek. Gaat het u om de spanning in uw voeten? Kies dan voor onze ontspannende voetmassage.
Thai massage
vanaf € 35,00
Een- en
tweepersoonskamers
Thai masaage op
verwarmd matras
Van 11:00 tot 22:00
uur geopend
Spa en wellness
Laat u heerlijk verwennen in onze professionele massagesalon en wellness Amsterdam. Bent u op zoek naar een ontspannende bodyspa of voetspa? Bij Thai Thara kunt u terecht voor diverse behandelingen. Heeft u pijn, wij verlichten het of lossen het zelfs op. Is het vooral stress dat u ervaart; we zorgen er in onze wellness Amsterdam voor dat u zich even helemaal geen zorgen hoeft te maken. We combineren onze spa Amsterdam met wellness, waardoor u zowel fysiek als mentaal volledig tot rust komt.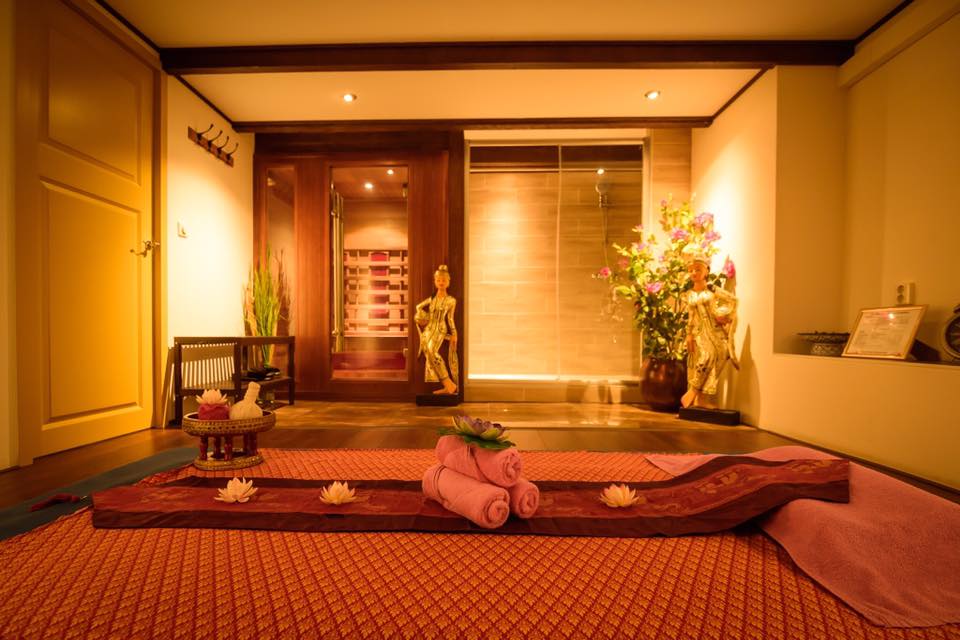 Massage tarieven
Prijzen van een Thai massage
Bekijk onderstaande prijzen van een Thai massage in Amsterdam. Voor een complete wellness ervaring kunt u de massage combineren met aromatherapie en een bezoek aan onze sauna en/of stoomcabine.
| Massages | 30 minuten | 60 minuten | 90 minuten | 120 minuten |
| --- | --- | --- | --- | --- |
| Traditionele Thaise massage | € 35.00 | € 55.00 | € 80.00 | € 105.00 |
| Aromamassage (warme olie) | € 35.00 | € 60.00 | € 85.00 | € 110.00 |
| Aromamassage met warme kokosolie | € 40.00 | € 65.00 | € 95.00 | € 120.00 |
| Aroma & kruidenstempelmassage | - | € 70.00 | € 100.00 | € 130.00 |
| Zwangerschapsmassage | € 35.00 | € 55.00 | € 80.00 | € 105.00 |
| Voetmassage | € 35.00 | € 60.00 | € 85.00 | € 110.00 |
| Schouder- en nekmassage | € 35.00 | € 55.00 | € 80.00 | € 105.00 |
Thaise spa & wellness in Amsterdam
Maak online een afspraak
Voor meer informatie over een massage of spabehandeling van Thai Thara of vragen wat betreft de mogelijkheden kun je contact opnemen door te bellen naar 020 233 38 22 (Amstelkade 66), 020 363 64 82 (Bilderdijkstraat 132) of een e-mail sturen naar info@thaithara.nl
Maak een afspraak