Thai Thara
Wellness Amsterdam
Relax and unwind completely at Thai Thara. In our wellness Amsterdam we provide various massages; for example, you can enjoy a wonderful warm oil and herbal stamp massage. We also give a traditional Thai massage and we focus specifically on your back, shoulders and / or neck. Are you concerned with the tension in your feet? Then choose our relaxing foot massage.
Thai massage
from € 40,-
Single and
double rooms
Thai massage on
heated mattress
Mon. till Fri. 11:00 - 21:00
Sat. & Sun. 11:00 - 21:00
Spa en wellness
Let yourself be pampered in our professional massage salon and wellness Amsterdam. Are you looking for a relaxing bodyspa or foot spa? Thai Thara offers various treatments. Do you have pain, we relieve it or even solve it. Is it mainly stress that you experience? in our wellness Amsterdam we ensure that you do not have to worry at all. We combine our spa Amsterdam with wellness, so that you can fully relax both physically and mentally.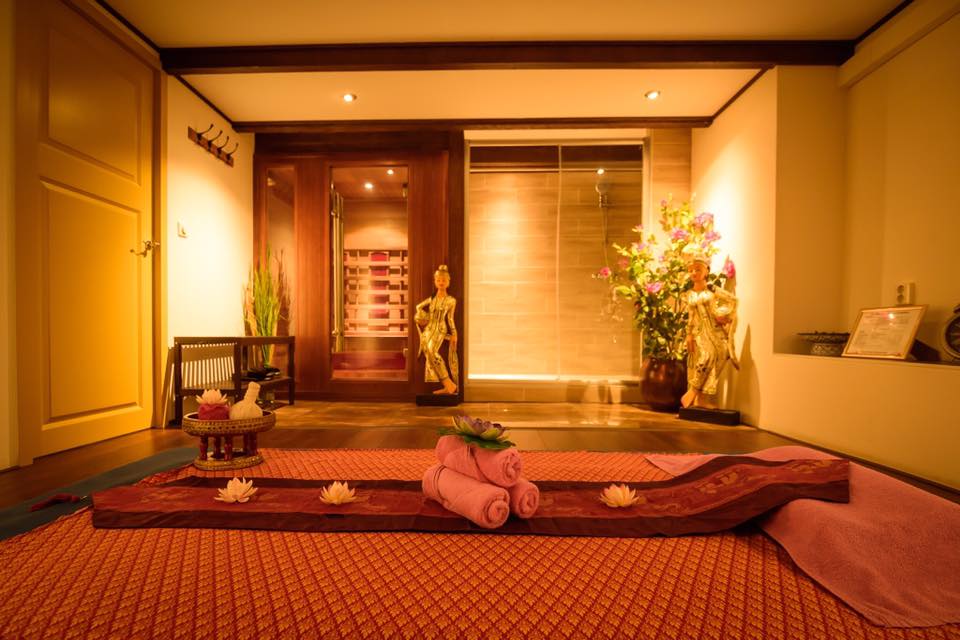 Massage rates
Prices of a Thai massage
View the prices below of a Thai massage in Amsterdam. For a complete wellness experience you can combine the massage with aromatherapy and a visit to our sauna or steam cabin.
| Massages | 30 minutes | 60 minutes | 90 minutes | 120 minutes |
| --- | --- | --- | --- | --- |
| Traditional Thai massage | € 40.00 | € 65.00 | € 95.00 | € 125.00 |
| Aroma massage (warm oil) | € 40.00 | € 70.00 | € 100.00 | € 135.00 |
| Aroma massage with warm coconut oil | € 45.00 | € 75.00 | € 110.00 | € 145.00 |
| Aroma & herbal ball massage | - | - | € 120.00 | € 155.00 |
| Pregnancy massage | € 40.00 | € 70.00 | € 100.00 | € 135.00 |
| Foot massage | € 40.00 | € 65.00 | € 95.00 | € 125.00 |
| Shoulder and neck massage | € 40.00 | € 65.00 | € 95.00 | € 125.00 |
Thai spa & wellness in Amsterdam
Make an appointment online
For more information about a massage or spa treatment from Thai Thara or questions about the possibilities, you can contact us by calling 020 233 38 22 (Amstelkade 66), 020 363 64 82 (Bilderdijkstraat 132) or send an email to info@thaithara.nl
Make an appointment